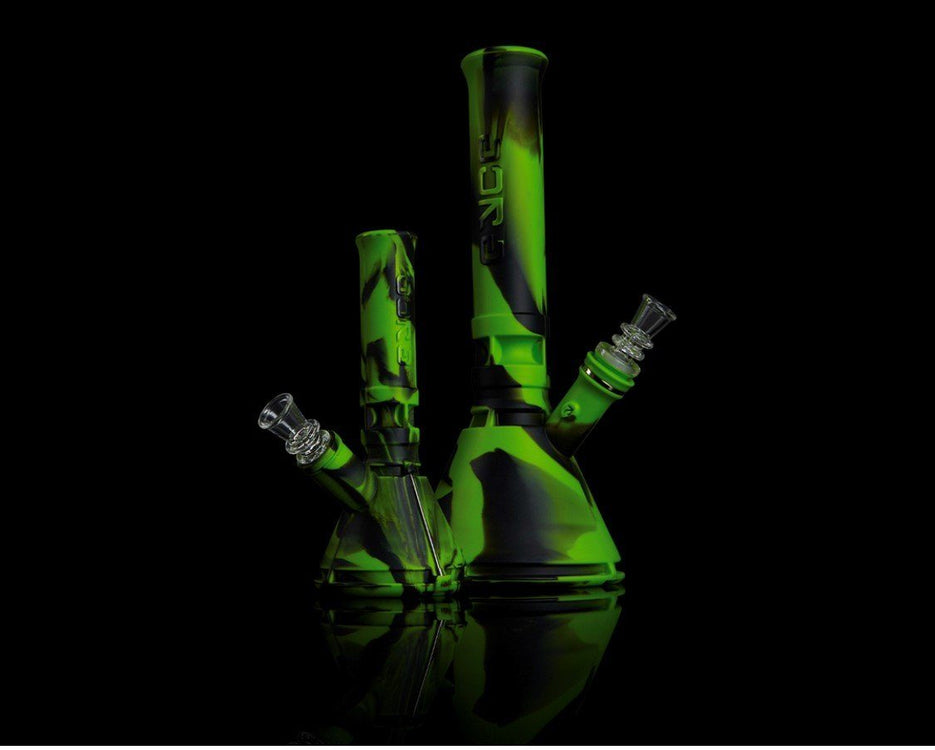 Love Your Eyce Beaker? Try the Eyce Mini Beaker!
The Eyce Beaker is one of our most popular silicone water pipes, thanks to its nearly-unbreakable silicone design, hidden storage, and unique, eye-catching style. But what if you need a silicone water pipe that can travel with you more easily?
Enter the Eyce Mini Beaker. We've taken the same basic design as our Eyce Beaker and shrunk it down to provide enhanced portability – so this pipe can go anywhere you go. Let's get into the details, and explain the basics and features of the all-new Eyce Mini Beaker
Portable, Compact, And Durable – The Eyce Mini Beaker Is A "Go-Anywhere" Companion
It may sound crazy, but with the Eyce Mini Beaker, we've shrunk the original Eyce Beaker by nearly 50% – and despite this small size, the Eyce Mini Beaker still provides an absolutely stellar smoking experience.
It comes in at just 7.25 inches in height, making it compact enough to fit into a bag, backpack, or even a purse. But great things come in small packages, and that's definitely true of the Eyce Mini Beaker
It uses the same silicone structure and borosilicate glass bowl, stem, and slide as the full-sized Eyce Beaker water pipe – and comes with a built-in storage base for extra smokable material, a steel poker, and tool holders for your convenience.
It's backed by Eyce's Lifetime Warranty, too – so if you break it, rip it, or otherwise damage it during routine use or transport, you can get a replacement. So don't wait – if you're looking for a convenient, travel-sized water pipe that's built to last, pick up an Eyce Mini Beaker today.
Shop The Eyce Mini Beaker & Our Other Products At Eyce Molds
At Eyce Molds, we're always creating innovative products to help you enjoy your smoking experience. So shop for an Eyce Mini Beaker today – we hope you enjoy the Mini as much as you love the original Eyce Beaker!