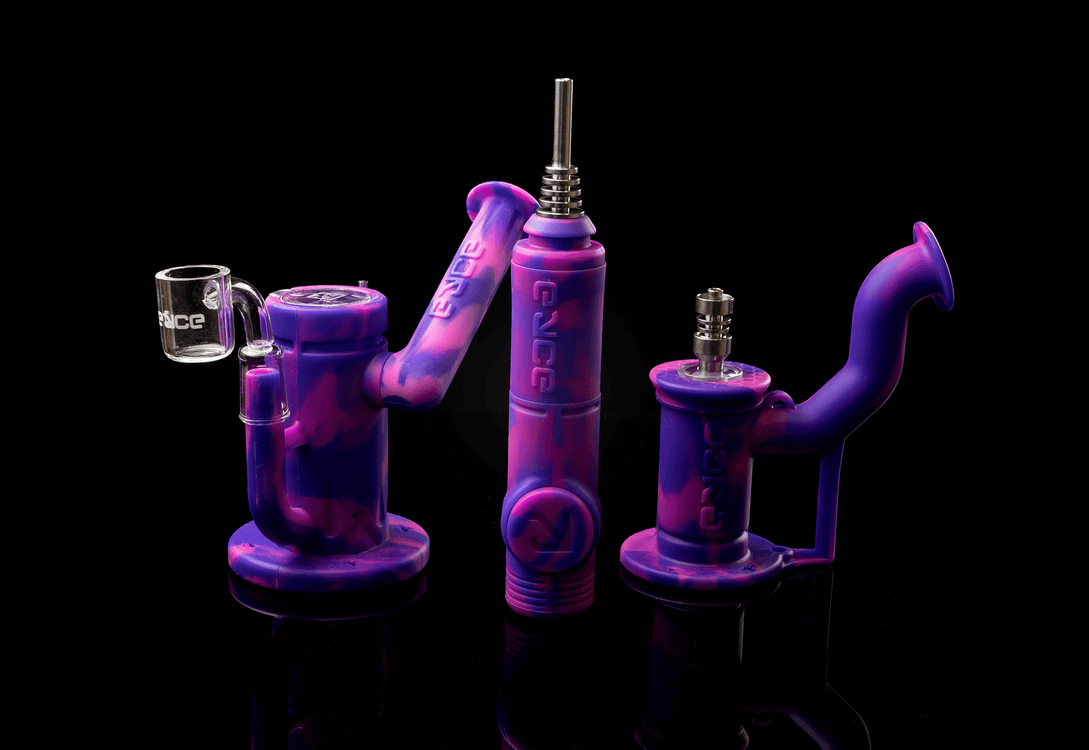 Deeper Dive: Eyce Concentrate Smoking Pipes
Struggling to find a concentrate smoking pipe that works best for you? We feel you.
Smokers are often faced with a plethora of concentrate smoking pipes, all promising 'the best' or 'an upgraded smoking experience', but it can still be daunting to navigate the market and know what can actually improve your smoking experience. And if you're really particular about what you want, the process can get downright frustrating.
So we at Eyce want to make things a little bit simpler for you, and introduce you to all our concentrate smoking products. We'll discuss their perks, who they're best suited for, and offer you more information to make a better decision to enhance your smoking experience.
Eyce Collector 
Need a good concentrate collector for traveling? Then the Eyce Collector is a top choice, thanks to its built-in storage container that allows you to easily carry your material with you and start your smoking experience virtually whenever you feel like it.
Even if you're not on the go, this collector still lives up to the promise of a great smoking experience. The Eyce Collector also comes with a heat shield, platinum cured silicone body, multi percolating water filtration, and is simply one of the best collectors on the market.
Eyce Rig II
The Eyce Rig II has an upgraded design from its predecessor because there's nothing wrong with adding a bit of style to your smoking experience. Plus, with this concentrate smoking pipe, you don't have to downgrade quality just to make a visual impact. 
It comes with one of the best silicone rigs on the market, a 10mm glass collar, reinforced chamber walls, and a built-in concentrate container. You will get all the benefits of the Eyce Rig and a few smart additional perks. It's a win-win!
Eyce Sidecar 
Need something that will allow you to completely customize your smoking experience? Then check out the Eyce Sidecar. It comes with a rotating neck that can allow you to adjust the rig based on your preference, and create a personalized smoking style. 
The Sidecar is best for those who are very particular about their smoking experience and find it hard to be truly satisfied with this sort of product. Just adjust it until you're 100% happy!
Eyce Spark
Another product that can easily do flower and concentrate, the Eyce Spark also combines all the benefits of both glass and silicone. It's an all-glass piece backed with a protective silicone sleeve and comes with a battery powered white LED light.
The Eyce Spark also comes equipped with a concentrate bucket, flower bowl, tool holder, and even hidden storage. And if you get the LED Expansion Pack, say hello to 5 extra LED light options: red, green, purple, white, and disco.
Don't Miss Out
Ready to dive into the world of concentrates or maybe it's time to upgrade your current setup? You're in luck! Our 710 Sales start 7/1, with exclusive codes and flash sales happening all month long. To stay in the know, sign up for our email list today! 
Ready to Shop at Eyce?
At Eyce, we have a simple goal: to help smokers access the best concentrate smoking pipes to enhance, and even perfect their experience. We focus a lot of our efforts on bringing out innovative products that are perfect for all our users, no matter their preferences, or their smoking experience.
And our knack for innovation is before you right now. We invite you to check out our products and discover the amazing Eyce concentrate pipes and choose the perfect one for yourself.
Oh, and if you break it, burn it, or tear it? We'll replace it! Eyce has a lifetime warranty that applies to every single one of the products we create, so your investment into an Eyce product will last you a lifetime. Read more about our lifetime warranty. 
Ready to shop? Check out the Eyce offers now!