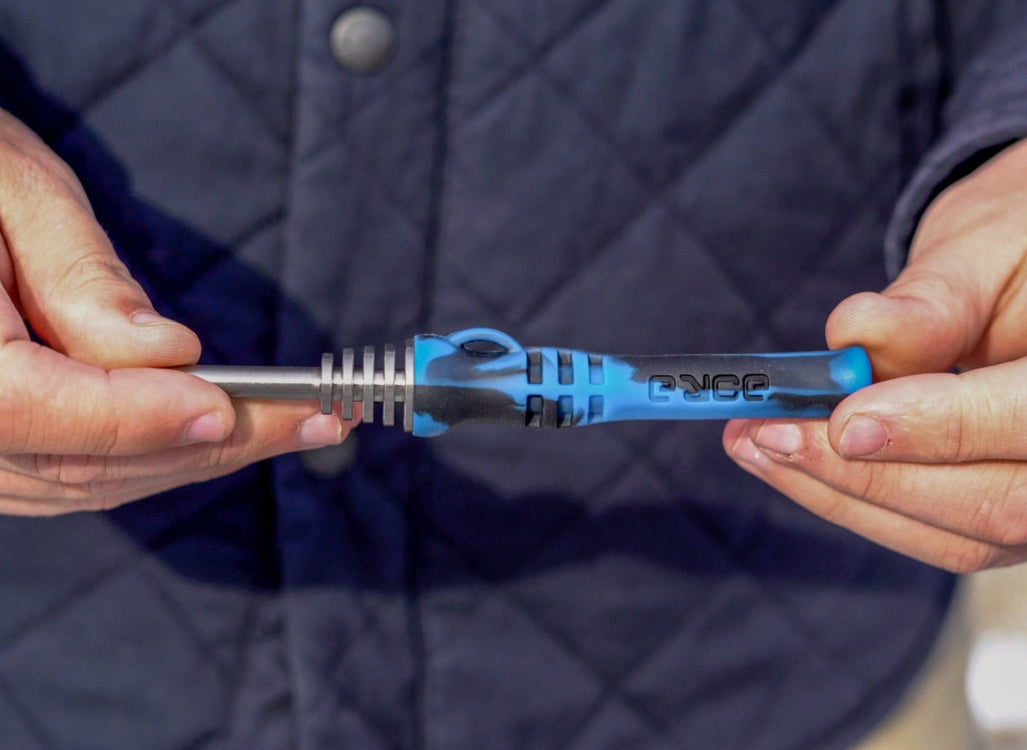 Eyce Molds: Convenience & Compatibility for Smoking
Eyce Molds is the trusted expert when it comes to silicone smoking pipes. Since 2013 they have been providing customers with innovative smoking devices; revolutionizing the smoker's lifestyle. Offering convenience and compatibility for smoking, their products are durable, affordable, portable, and adaptive. Once you get the chance to experience "Durability That Rips™", it's easy to see why every smoker would invest in a variety of Eyce Molds' products. 
Interchangeable Accessories
Taking advantage of their interchangeable silicone smoking accessories is easily one of the biggest perks of purchasing the Eyce Molds line of smoking devices. The Eyce Shorty, for example, is sold as a product used to consume CBD flower but can be easily converted to consume CBD concentrates. By purchasing a Titanium Nozzle or a Quartz Nozzle, customers are able to convert the Eyce Shorty into a straw by simply popping out the Borosilicate Glass Bowl and replacing it with either the titanium or quartz nozzle. Similarly, if you purchase a 10mm Domeless Nail or the 10mm Quartz Bucket in combination with the 10mm Glass Collar, the Eyce Spoon or Eyce Hammer can be converted into a device used to consume CBD wax or oil. You would simply pop out the 10mm Glass Bowl that comes standard in the Eyce Spoon and Eyce Hammer, and insert the 10mm Glass Collar, which allows the 10mm Quartz Bucket or 10mm Domeless Nail to be used; now making the Eyce Spoon and/or Eyce Hammer a device compatible for smoking CBD concentrates. 
From the other end of that model, Eyce Molds also created the Eyce Rig II, which is sold as a product intended for CBD concentrates. Like the Eyce Spoon and Hammer, the Eyce Rig II can be conveniently converted to consume CBD flower material. In this example, you would just have to purchase the $8.99 Spoon Glass Bowl. To complete the conversion, you would slide out the 10mm Titanium Nail that comes standard in the Eyce Rig II, and then swap the 10mm Glass Collar with the newly purchased Spoon Glass Bowl. You now have a silicone water pipe capable of consuming a variety of materials. 
Nearly every silicone smoking device that Eyce Molds creates provides the convenience and compatibility for smoking CBD flower or CBD concentrates. Unlike many products on the market, where you have to buy a completely separate piece in order to consume different materials (i.e. a pipe is used to consume CBD flower and a rig is used to consume CBD concentrates only); the Eyce Collector is sold with the intent to consume CBD oils and waxes, but can easily be converted to consume CBD flower; with the purchase of the Eyce Shorty Glass Bowl.
Like this example, many of Eyce Molds' products can be adapted to consume either CBD flower or CBD concentrates. They are known for ease and convenience when it comes to smoking. This key feature is just one of many that separate Eyce Molds from their competition. The variety of beautiful silicone products created by Eyce Molds has created a new avenue and community when it comes to smoking. And, along with the Lifetime Warranty that comes standard with their products, they also offer replacement parts for all components. Whether you are looking to convert from consuming CBD flower to CBD concentrates, or you just need a new bowl or nail for your current setup, Eyce Molds has you covered. Make sure to check out their online store, where you can find their whole line of silicone smoking devices, as well as any and all accessories that you may need for your smoking experience; and keep an eye out on their latest developments!
Eyce Molds' Promise & Value
Eyce Molds promises all of its customers "Durability That Rips". The Eyce Molds' promise is evident in the raving product reviews left by past and returning buyers. Eyce Molds' takes pride in its commitment to its customers. That is why all of their items come with an Eyce Molds Lifetime Warranty. It's never been easier to get your hands on replacement parts for your smoking device. Talk about game-changing!