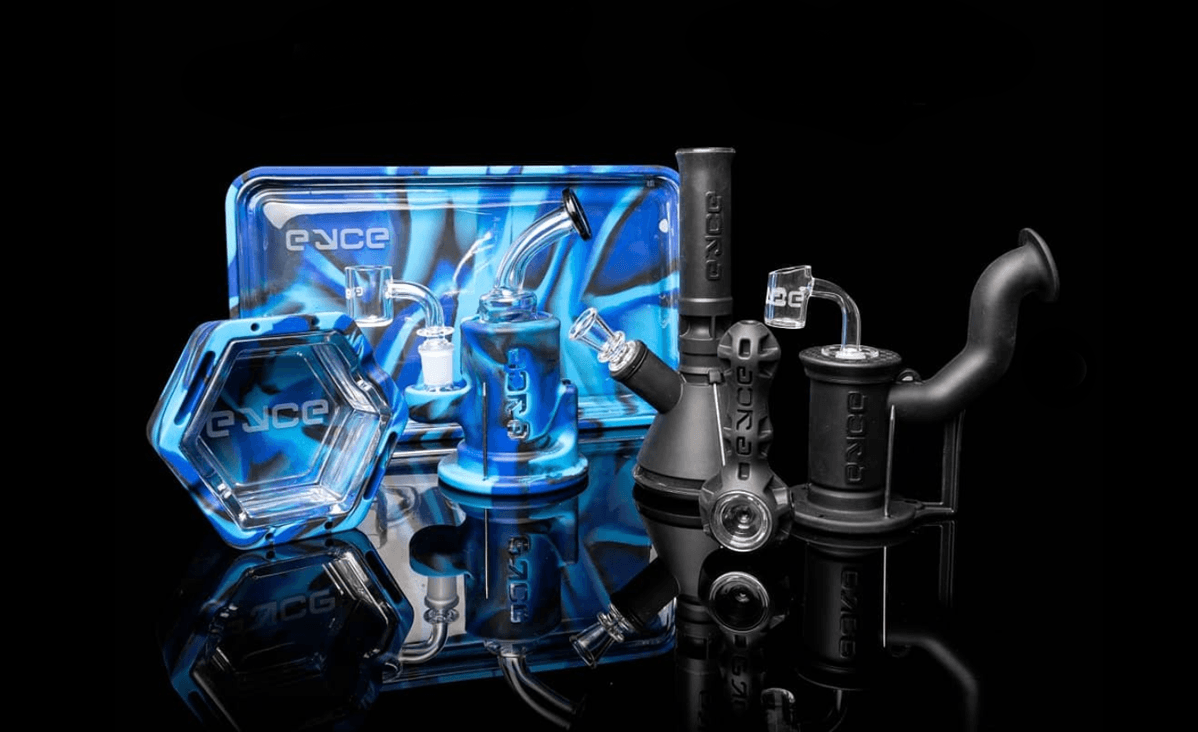 Comparing Silicone, Glass & Hybrid Pipes
There is often a lot of chatter among smoking enthusiasts as to which type of material makes for the most enjoyable pipe. Both glass pipes and silicone pipes have their pros and cons, and then there are hybrid pipes that combine silicone and glass into a unique apparatus altogether. Understanding the benefits and shortcomings of each pipe style type may serve to give you the answers you need to purchase the right style for your smoking habits, so we've made it easy for you to do just that.
Silicone Pipes
With bodies made entirely of silicone material and often topped with a glass bowl (such as the Eyce Spoon), these pipes can offer a convenient, durable, and even rugged way to enjoy smoking. Silicone gets the job done just as well as glass does, but there's more to consider than fundamental design.
Advantages of Silicone Pipes
     

Durability

-

Silicone pipes can't break, and that's a big plus. Silicone is a synthetic material engineered to withstand heat, and its rubbery qualities give it optimum flexibility.

     

Non-Polar

-

Sticky resins might make your glass pipes dirty over time, but silicone doesn't provide the same surface type for resins to stick to. This makes them a lot easier to keep clean.
Disadvantages of Silicone Pipes
     

Aesthetics

-

Some feel that silicone pipes aren't as beautiful or ornate to look at, and while this doesn't detract from their ability to perform, it can make them less desirable for some.
Glass Pipes
Glass pipes are age-old and have stood the test of time even as new technologies emerge. They're the classics, and what many of us used during our classic smoking days. Still, you have to take the good with the, not as good.
Advantages of Glass Pipes
     

Performance

-

Glass is said to offer the best performance over any other material due to its malleable properties – designers can unleash their full creative potential to perfect certain qualities, such as airflow.

     

Customization

-

Glass pipes can be customized to suit anyone's individual preference. You can add ash catchers or glass bowl attachments to get exactly the feel you want.
Disadvantages of Glass Pipes
     

Durability

-

Well...it's glass. Smashing your beloved glass pipes is a major bummer, which is definitely one for the silicone column.
Hybrid Pipes
This is where it gets interesting. Hybrid pipes combine both the advantages of silicone and glass pipes to create the perfect combination: a durable and high performing pipe that looks great and offers a unique way to enjoy smoking. 
To perfect this hybrid pipe combination, Eyce decided to create and launch the ProTeck Series. This series boasts the beauty of glass and the durability of our platinum cured silicone - all the durability that rips wrapped out top quality glass. For example, the Eyce Spark is Eyce's perfectionist spin on the standard hybrid pipe. The Spark is an all glass rig that is wrapped in the protective ProTeck silicone sleeve providing the smoker the beauty of glass and durability of silicone, making it one of the most versatile pieces in the Eyce arsenal. On top of being a hybrid pipe, what makes the Eyce Spark so revolutionary is that it comes equipped with an LED light, concentrate bucket, flower bowl, steel poker, built in tool holders, AND hidden storage. To learn more about the specs and features about the Eyce Spark, or to see more of our hybrid products, check out the full ProTeck Series by Eyce.
Additionally, no matter if you are looking for beauty, durability, or convenience, Eyce has you covered. Check out our revolutionary smoking products, accessories, and tools with durability that rips, today!